Mortgage and equity release specialists across the Midlands and beyond.
Acclaimed Mortgage Consultancy is a professional financial services business. We specialise in delivering Mortgage and Equity Release solutions for individuals and families in the Birmingham, Solihull, Coventry, West Midlands, Warwickshire, and Worcestershire areas. For jargon-free advice on all your Mortgage, Equity Release, Protection, and Insurance requirements contact us today.
How can we help you today?

Mortgages
Whether you are a first-time buyer, looking to move, re-mortgaging your current property or want to become an investor in the Buy to let market, we can guide you accordingly.

Equity Release
Equity Release is a way of releasing some of the money that is tied up in your home. This can be supplied as a cash lump sum or you have the option to draw funds as and when required.

Help to Buy
The Government has introduced "incentive schemes" such as the Help to Buy Equity loan, which is only applicable for new build properties. This is available for first-time buyers and movers.
Tailored Approach
We provide tailored advice that is right for an individual's current needs and future aspirations; we pride ourselves on our bespoke service. Your mortgage is potentially the single largest financial commitment you will make and we want to make sure any advice that we provide will ensure your mortgage isn't a burden to you. By using our mouth and ears in the proportions they were given to us, we will learn more about your goals and objectives to ensure the advice we provide will always be tailored to your circumstances.
Why we are different
Looking after you is of paramount importance. We're on hand even when your mortgage transaction has completed should you need to discuss anything further or your circumstances change. We will also remind you when your current deal is due to expire so you can prepare for the next step.
Award Winning
We are proud to have won the prestigious Equity Release Awards twice so far…..
We care about our clients, and never want them to feel pressured into taking equity release. To this end, our meetings are free and without obligation, we will meet with clients and after completing a Fact-Find we will arrange a follow-up meeting to present our recommendations. If a client doesn't wish to proceed, no fee is payable. We will never advise a client to proceed with equity release if we don't feel that it's in their best interest.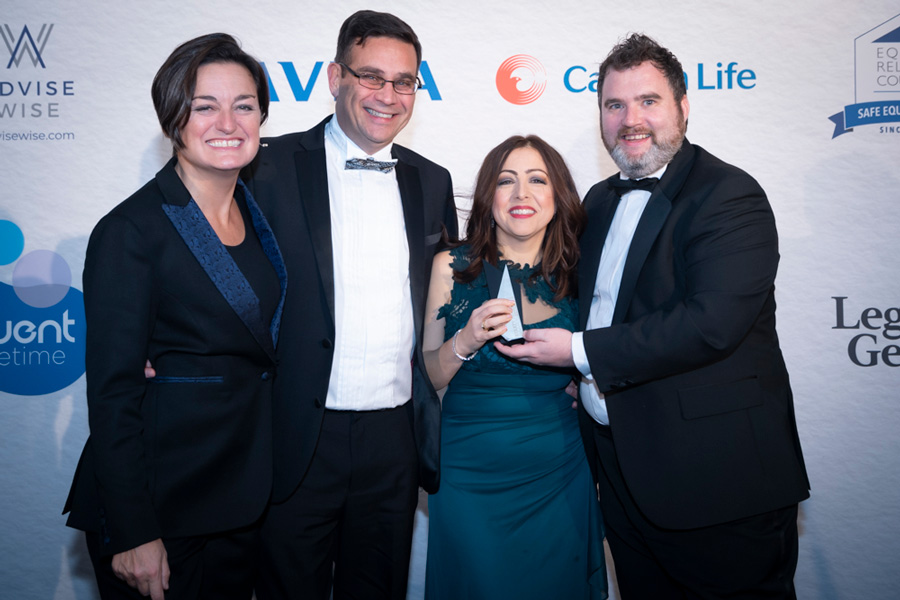 ↑ Sandy and Gavin collecting Best Equity Release Adviser Award 2019
↑ Sandy collecting Best Equity Release Adviser Award 2017
Mortgages, Equity Release, Protection and more!
First Time Buyer Mortgage
This is an exciting step for anyone going down the house purchasing route for the first time. As this is likely to be one of the biggest financial commitments that you are likely to make, we need to ensure that it's the right one for you.
Home Mover Mortgage
If you are looking to move home and want to see how much you can borrow, together with the associated costs of moving, then look no further. We will calculate what you can afford to borrow to ensure that you can meet your repayments comfortably.
Remortgage
A remortgage is when you decide to review your existing mortgage arrangements. There are many reasons for doing this, one of the most popular being for home improvements. Alternatively, you can remortgage to secure a better deal than your existing lender is offering you.
Help to Buy
The Government has introduced "incentive schemes" such as the Help to Buy Equity loan, which is only applicable for new build properties. This is available for first-time buyers and movers. We are happy to manage this process for our clients and will even deal with the Help to Buy paperwork for you.
Equity Release
Equity release is a "Tax-Free" way of "unlocking" or "releasing" capital tied up in the property you own and live in, these funds can be used as you wish.
Retirement Planning
Many retirees are finding themselves unable to maintain the lifestyle they wish to as they simply don't have the funds to do so. Equity Release may be the answer to solve this problem.
Protection & Insurance
Taking on a mortgage will probably be the largest financial commitment you ever make, and it is vital that you protect your investment,  that you will be working hard to maintain in the years ahead.
Buy to Let Mortgages
These types of mortgages are for Landlords and investors, who are looking to purchase or remortgage residential properties for rental purposes. Products for this type of lending have grown and we can arrange mortgages for both individuals or Limited companies.
Call us today to discuss your needs
or send us your enquiry