Great news! – We are delighted to have won the Best Financial Adviser (five advisers or fewer) Award in the 2019 Equity Release Awards.
Fantastic to hear this feedback from the judges who said "this winner has really delivered in the last 12 months and has brilliant customer service."
We're so proud to receive industry recognition for our work, this is the seventh year in a row that we've been involved in these awards and our fourth win.
In the last year, we've doubled the number of Equity Release completions we've worked on, and we were proud to share with the judges some of the testimonials we've been getting from our clients over our busy year. We want to thank them all for their support in our success
We really valued this feedback so decided to share this comment with the judges:
"Helping your elderly parents with tough financial decisions is quite a daunting proposition for most families.  When thinking about Equity Release as a solution for my parents it was essential that I found the right person, who I knew I could trust and would have the best interests of my family… Since initially engaging her [Sandy] to work with my parents she has exceeded expectations every time.  Her patience, attention to detail and genuine rapport is fantastic and she has genuinely put my parents mind at rest through her level of care. They are delighted with the service they have received, as am I and I would be delighted to recommend Sandy to any future customers and this award, she is a true star!"
One of the factors on our successful expansion, has been our closer working with solicitors. Solicitors tend to be the first port of call for clients who need any form of advice. By working with solicitor firms recently, we have been able to help clients who thought they may lose their homes or had no other options. This has resulted in more introductions from them and enabled them to help their own clients when they thought there wasn't a solution. We've also trained other professionals, such as other non-equity release qualified Mortgage Brokers, Estate Agents and IFAs, so that they can fully understand the benefits of Equity Release for their clients.
Our award win has capped off a fantastic year and we look forward to working with you. Get in touch if you want to find out more about equity release.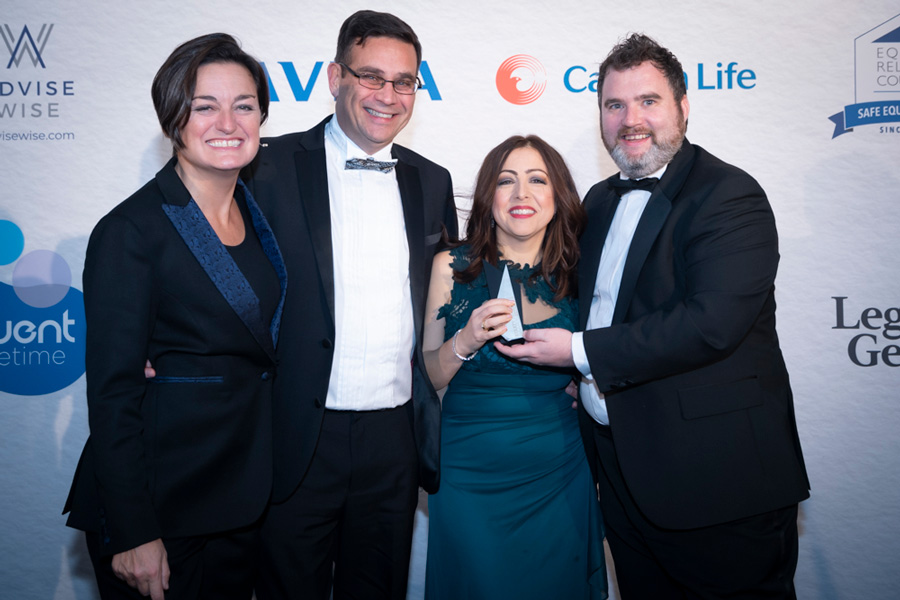 Sandy and Gavin Ameer-beg collect the award for Best Financial Adviser at the Equity Release awards 2019.